Two paths are offered to obtain the AHA's 2 years credential, either the "Traditional" classroom program or the AHA's "eLearning" program, combining an online, self-directed, multimedia program, with an in person/virtual hands-on Skills Session evaluated by an AHA Instructor.
Basic Life Support (BLS):
Designed for healthcare professionals, both prehospital, (EMTs, paramedics, fire fighters), and in-hospital providers who need to know how to perform CPR and other basic cardiovascular life support skills in a wide variety of in-facility and prehospital settings.
BLS Classroom Course: Length 4 hrs.
BLS e-learning & Skills Session: Length 90 min. & 1 hr.
BLS Skills Session Only: Length 1 hr.
Advanced Cardiac Life Support (ACLS): Prerequisite: BLS
Designed for advanced healthcare professionals, teaches the importance of preventing cardiac arrest, high-performance teams, early and continuous high-quality CPR, systems of care, recognition and intervention of cardiopulmonary arrest, post-cardiac arrest care, acute dysrhythmias, stroke, and acute coronary syndromes (ACS).
ACLS Classroom Course: Length 16 hrs.
ACLS eLearning & Skills Session: Length 90 min. & 1 hr.
ACLS Skills Session Only: Length 1 hr.
Pediatric Advanced Life Support (PALS): Length 16 hrs. 3
Designed for advanced healthcare providers who respond to emergencies in infants and children and for personnel in emergency response, emergency medicine, intensive care, and critical care units. Upon successful completion of the course, students receive a course completion card, valid for two years.
PALS Classroom Course: Length 16 hrs.
PALS eLearning & Skills Session: Length 90 min. & 1 hr.
PALS Skills Session: Only Length 60 min.
CPR/AED (Adult/Child)
K-12 Schools
First Aid
Pediatric First Aid
Designed for the "lay responder" wishing to have the skills needed to recognize the most common causes of death in adults and children (1 year and older), initiate emergency care, and provide CPR/AED, and or First Aid care while awaiting EMS.
CPR/AED: Participants successfully completing this course should be able to explain/perform:
How high-quality CPR improves survival

High-quality CPR for an adult, alone or multi-rescuer*

Effective breaths using with or without a barrier device

How and when to use an AED on an adult/child*

Describe when and how to help a choking adult/child*
*Optional "Infant Module" adds about 30 minutes to any given program, providing training specific to cardiac and respiratory emergencies for infants, under 1 year of age.
First Aid: Participant successfully completing this course should be able to explain/perform:
Activating emergency response (911)

First aid kits and the basics

Medical emergencies: stroke, seizures, cardiac events

Injuries: bleeding, burns, sprains/strains, etc.

Environmental hazards: hold/cold, insects, allergens
CPR/AED: Length 2 hrs.
CPR/AED eLearning & Skills Session: Length 1 hr. & 1 hr.
CPR/AED Skills Only: Length 1 hr.
First Aid: Length 3 hrs.
First Aid eLearning & Skills Session: Length 2 hrs. & 1 hr.
First Aid Skills Session Only: Length 1 hrs.
Pediatric First Aid & CPR/AED:
Designed for those involved in childcare, (teachers, camp counselors, etc.), with a duty to respond to illnesses and injuries in a child or infant in the first few minutes until EMS arrives. Includes much the same information as the above Heartsaver programs, simply with child/infant related specifics and curriculum.
Pediatric First Aid & CPR/AED Classroom: Length 5 hrs., without optional modules
Pediatric First Aid & CPR/AED eLearning & Skills Session: Length 3 hrs. & 1 hr.
Pediatric First Aid CPR Skills Only: Length 1 hr.
K-12 for Schools: Length 1 hr.
Exclusively for K-12 students, faculty, and staff, this course conveys the same fundamental curriculum as outlined in the above Heartsaver CPR/AED course, with greater flexibility, and customizable with optional modules.
Upon completion, each of the above programs yield an American Heart Association (AHA) credential, valid for two years
CPR for Family and Friends: Length 1 hr. 5
Covering much of the same information as the above HeartSaver CPR/AED course, this program is intended for anyone wishing to learn CPR, but not in need of a credential, ideal for community groups, parents, grandparents, caregivers, schools and students.
AED, PAD, & HEARTSAFE PROGRAMS
"Our People Are Our Greatest Asset"
That phrase has been uttered in boardrooms & conference rooms all across the world by companies of every size. Why? Because it's true!
Thousands die each year when they experience one of the Primary Causes of Death while at work:
The first step to protecting your company's most precious resource is to provide routine preparedness training and make emergency equipment (AED & First Aid Kit) available for use.
Public Access Defibrillation (PAD) Programs are composed of the following:
Heart Safe Communities have been created across the country and may offer victims of Sudden Cardiac Arrest & Stroke a greater chance of survival.
Heartsafe Community or Facility is a designation given to those that have:
Potentially offering victims of a second chance at life, Heart Safe Communities have been created across the country
Having AEDs strategically placed along with trained (CPR/AED) citizens, wherever people gather in large numbers to live, work and play, greatly enhances the ability of Emergency Medical Services to stabilize and transport victims of Sudden Cardiac Arrest to the hospital for Advanced Care.
On average, there is less than a 5% survival rate in Sudden Cardiac Arrest occurring outside the hospital setting. SCA is responsible for the deaths of 300,000 Americans annually. In communities where a Heart Safe Program has been successfully implemented, see above, the out-of-hospital SCA survival rate rises to nearly 80%.
Participating Communities will receive ongoing support and guidance from Training For Life, Inc., an award-winning American Heart Association Training Center, ensuring the quality and sustainability of the program:
Heartsafe Communities or Facilities provide their residents with a safer place to live. A place where one of the primary causes of death in the United States, Sudden Cardiac Arrest, is recognized and fought with the most recent advances in technology.
What is an Automated External Defibrillator (AED)?
An electronic medical device able to check the rhythm of a person's heart. It can recognize rhythms that are "non-productive" and require an electrical shock. It can advise the rescuer to remain clear/safe, and when to deliver the shock using voice prompts, lights, and text messages.
 In tandem with CPR, maintaining oxygen rich blood flow to the heart, lungs, and brain, the AED offers the greatest chance of survival from Cardiac Arrest.
Why are AEDs important?
 Cardiac Arrest occurs in a diseased heart's electrical system, nearly 300,000 times annually in the United States alone, according to the American Heart Association.
 Where should AEDs be?
 Like fire extinguishers, a better question is where shouldn't they be? 
The AHA reports that nearly 80% of the Cardiac Arrests experienced in the US occur in the home.  We also spend a significant amount of time at school and in the workplace.  AEDs "should" be in all high traffic/population areas, making them "HeartSafe".
What is a Public Access Defibrillation (PAD) Program?
Depending on the State, AED deployed anywhere accessible by any member of the public (basically anywhere outside of a private residence or vehicle) are considered Public Access Defibrillation and must comply with certain requirements, most commonly:
1. Deploy an AED meeting the most current technological specifications
2. Nationally recognized CPR/AED training for Organizational Responders
3. Physician Oversight, ensuring Quality Assurance for the State:
What is a HeartSafe Program?
While an informal term; HeartSafe identifies a facility, community, building, etc. that has established a proper Public Access Defibrillation (PAD) program, as discussed above.
Recognition of a facility or site's "HeartSafe" designation may be publicized through press release, involvement of local elected officials representing the location, and the placement of fabricated or ready‑made signs and stickers, etc.
A well run "HeartSafe" program can result in a Cardiac Arrest survival rate to nearly 80% (AHA).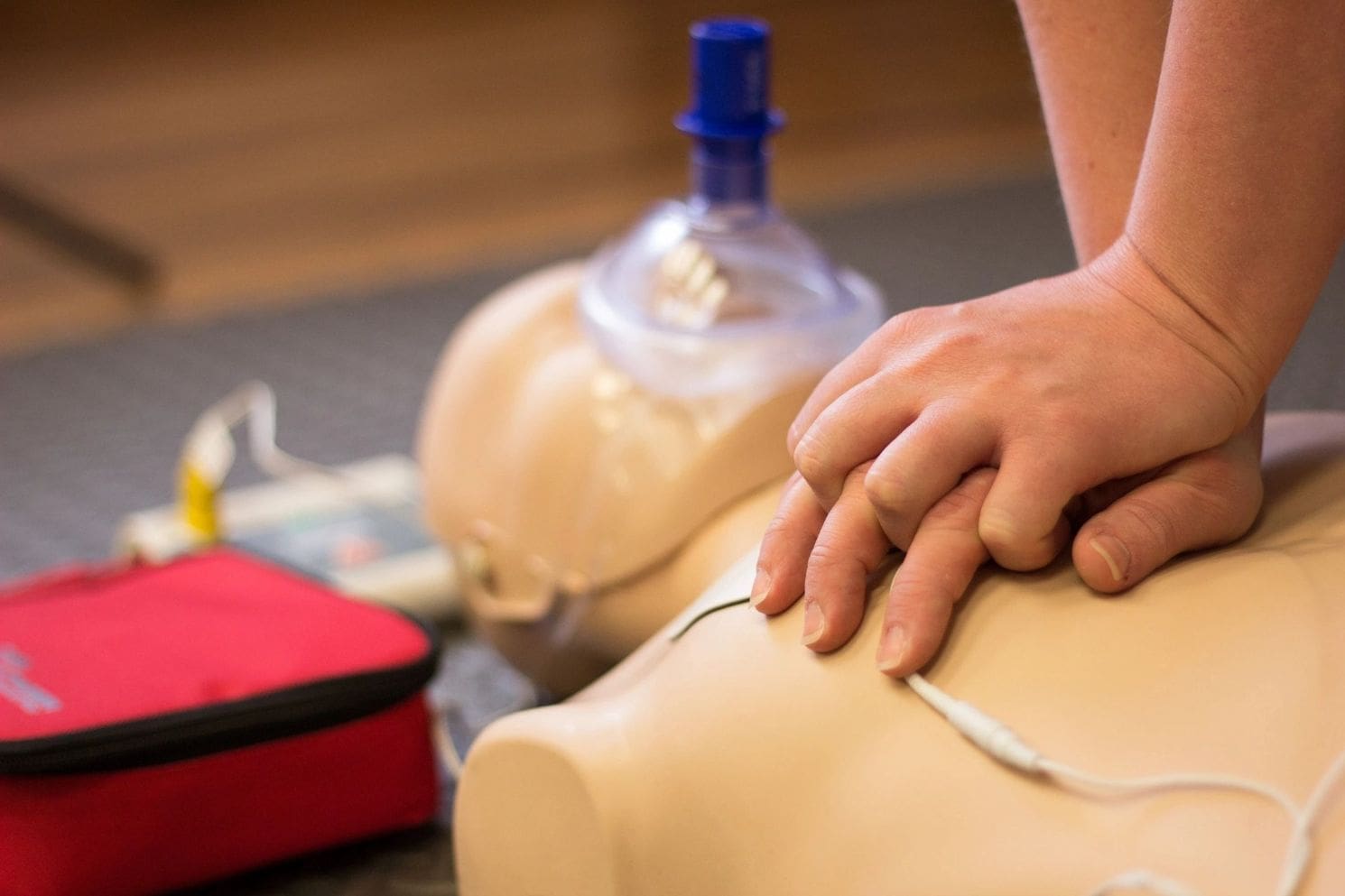 About CERT…
The Federal Emergency Management Agency, using the model created by the Los Angeles City Fire Department, began promoting nationwide use of the Community Emergency Response Team CERT concept in 1994. Since then, CERTs have been established in hundreds of communities.
CERT training promotes a partnering effort between emergency services and the people that they serve. The goal is for residents, community organizations, & businesses to train in basic response skills and form cohesive Teams. CERT members are then integrated into the existing emergency response capability for their area.
If a disastrous event overwhelms or delays the community's professional response, CERT members can assist others by applying the basic response and organizational skills that they learn during training. These skills can help save and sustain lives following a disaster until help arrives. CERT skills also apply to daily emergencies:
Thousands of Fires & Nearly 400,000 Cardiac Arrests Each Year`
CERT members maintain and refine their skills by participating in exercises and activities. They can attend supplemental training opportunities offered by the sponsoring agency and others that further their skills base. Finally, CERT members can volunteer for projects that improve community emergency preparedness.
CERT Training will teach participants to…. Describe the types of hazards most likely to affect their homes and communities.